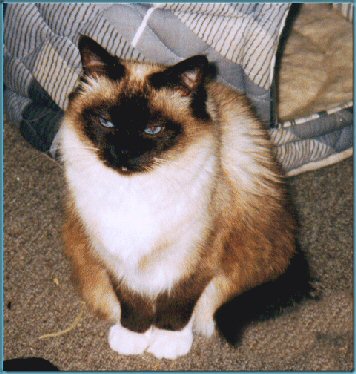 One of my first queens was seal point Hildale Kizima Kai (above), and her blue point daughter, Shenji Mara Jade, who consistently produced show quality kittens in her albeit small litters. Chosen largely for her vivid blue eye colour at a time when that improvement was highly desired in my lines, Mara's own highlight was winning 3rd Best Kitten at the CCC of A National Show in Adelaide. At that time someone offered $1,000 for her on the spot, which was a lot of money then, but I am now glad I turned it down!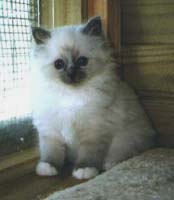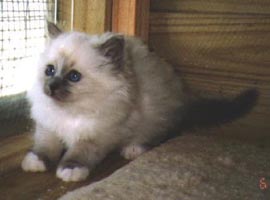 Sadly, Mara, aged almost 10, made her trip to the Rainbow Bridge some years ago. Vale, dear Mara.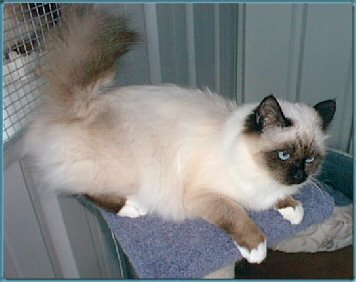 Gold Champion Shenji Marlena is Mara's seal point daughter. Both cats produced their best kittens to Zabeal, having lovely strong chins, good eye colour, great markings and traditional Birman expression.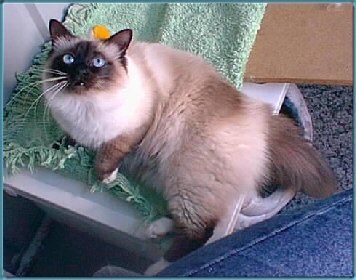 Another 'old lady' was Jarrah Mika, bought as an undesexed seal point pet from a lady who no longer wished to breed and, by serendipity, Mika was found to have perfect markings, lovely eye colour and a good Roman nose. We found a really special home for her as a desexed and affectionate older cat.
Mika's progeny included the very successful DGC Shenji Michaela, owned by BK Heather of Sharada, and she is now grandmother to other show beauties. Mika was genetically homozygous for black, which means she only produced seal points. We ran on a female kitten from her last litter, Shenji Magdalena, who is continuing her breeding career