Studs
Eldorato Zabeal
CCCA Ch & Gold Champion Eldorato Zabeal (Hons): Zabby was already a Silver Champion when I purchased him from Lesley Freemann of Eldorato, and he was from my favourite Victorian stud, Eldorato Brutus. Zabby would always rather have a cuddle and a 'smooch' than his meal, and although his coat has darkened a little his years advance, he remains a beautiful example of the breed. Consistently throwing excellent gloves and gauntlets in his kittens, he is from pure seal/blue point lines.

Borealis Mandalay
Born in November, 2010, he is the son of CCCA Ch & Gold Ch Eldorato Zabeal and Cyannza Penny, and is my first Birman to mark the transition from Shenji Birmans to Borealis Birmans. This decision was made on my transfer to the Feline Control Council of Victoria (FCCV), and marks the rebirth of my Birman program. He has a wonderful temperament, and is a true gentleman to his ladies.

Shenji Aslan d'Or
This is CCCA Ch & Gold Premier Neuter Shenji Aslan d'Or, or 'Lando' to his friends. Swanning around the house after his hugely successful show career, 14 year old Lando could also go back on the show bench. tomorrow, but he stays at home to admire the vast collection of ribbons and banners in his honour, and also to keep our NFC pet Captain Jack in line!

Shenji Zorba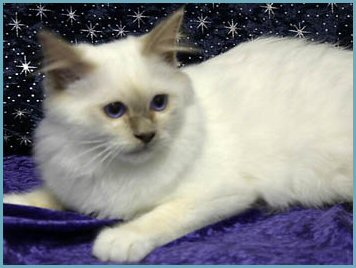 I have kept a lilac point stud boy, Shenji Zorba, from Double Gold Champion Sharada ShadesoBlue and my own Grand Champion Nicsha Zannia, and am planning to commence a 'colour' line this year. My classic seal/blue line, however, will continue in its purity, separate from the 'other colours'.